Light Grey Tarragona III Men - 39
Men Size (EU Standard):
39
Delivery

Free shipping: (7-15 Business Days)

Free Return & Exchange

Our 30-Day Fit Guarantee, Free Exchange & No-Hassle Returns

Every Purchase, Plant a Tree

Your purchase makes a difference.
Fraud Prevention: Your Payment is Safe & Secure.
Eco-Friendly & Ventilate
Cotton Linen Upper
The cotton linen allows your feet to breathe while walking. As uin adheres to the belief of assuming corporate social responsibility in terms of environmental protection. Thus, adputing this eco-friendly fabric as the upper material.
Secure & Neat
Delicate Sewing Technique
The exquisite and neat stitching process of the toe cap is stronger than viscose, which effectively avoids the risk of degumming and creating a sleek silhouette.
Fits without Hassle
Flexible Elastic Band
Fit securely while easy to put on and take off. 
Comfy Wide Fit

Bionics Foot-shaped Design
Loose toe-box is great for bare-foot use, granting ultimate freedom and relaxation to your walking experience.

Eye-catching & Reverence for Nature
"Water Ripple" Structure EVA Midsole Side
The water ripple structure on the side simulates the ocean waves, adding to the overall agility of the shoe body and creating a vibrant fashion style.  The application of EVA texture makes the midsole soft and elastic, redues the walk pressure.
Let's Witness Historical Re-enactments
Tarragona-Map Crafted Outsole
The grooved sole is combined with the terrain characteristics of Tarragona's seaside to form a sole with good anti-slip properties and a special appearance. Tarragona, which combines the prosperity of the city coast and the comfort of the Mediterranean sun, is waiting for you to visit! 
Too Comfortable to Stop Walking

Soft & Elastic Massage Insole
Specially designed insole promotes air circulation to keep your feet dry and helps to improve blood circulation in the feet.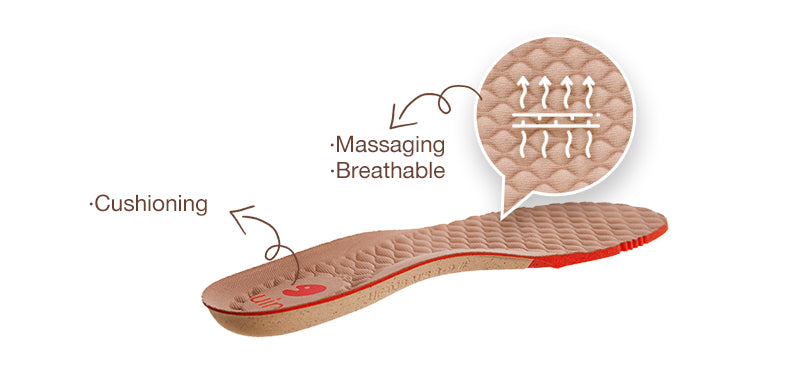 Superior arch support fights foot fatigue to help you stay active for longer time.